O Bona Explorer
The Mobile Safari Camp
The Nature You Love. Wherever You Want To Be.
Your Mobile Safari in Botswana
The O Bona Explorer mobile safari camp was designed from scratch to provide the ultimate mobile safari experience for small groups in Botswana. Being able to host up to 10 people at a time, our team is able to pitch our comfortable private mobile safari camp almost anywhere in Botswana, starting from the Moremi Game Reserve, the Chobe National Park or even the legendary Central Kalahari Game Reserve. Thanks to our tailor-made off-grid power- and water supply there are absolutely no limits to your personal safari adventure in Botswanas vast wilderness, whilst enjoying the exclusivity of your private camp. Not having to make any cutbacks regarding comfort and well-being was our predominant aim before planing the O Bona Explorer mobile safari camp – so look forward to spacious safari tents, comfortable beds, en-suite bathrooms with chemical toilets as well as hot and cold bucket showers. Not to mention the freshly prepared, delicious meals and of course unlimited epic safari game drives. What are you waiting for? Start your unique mobile Safari in Botswana now!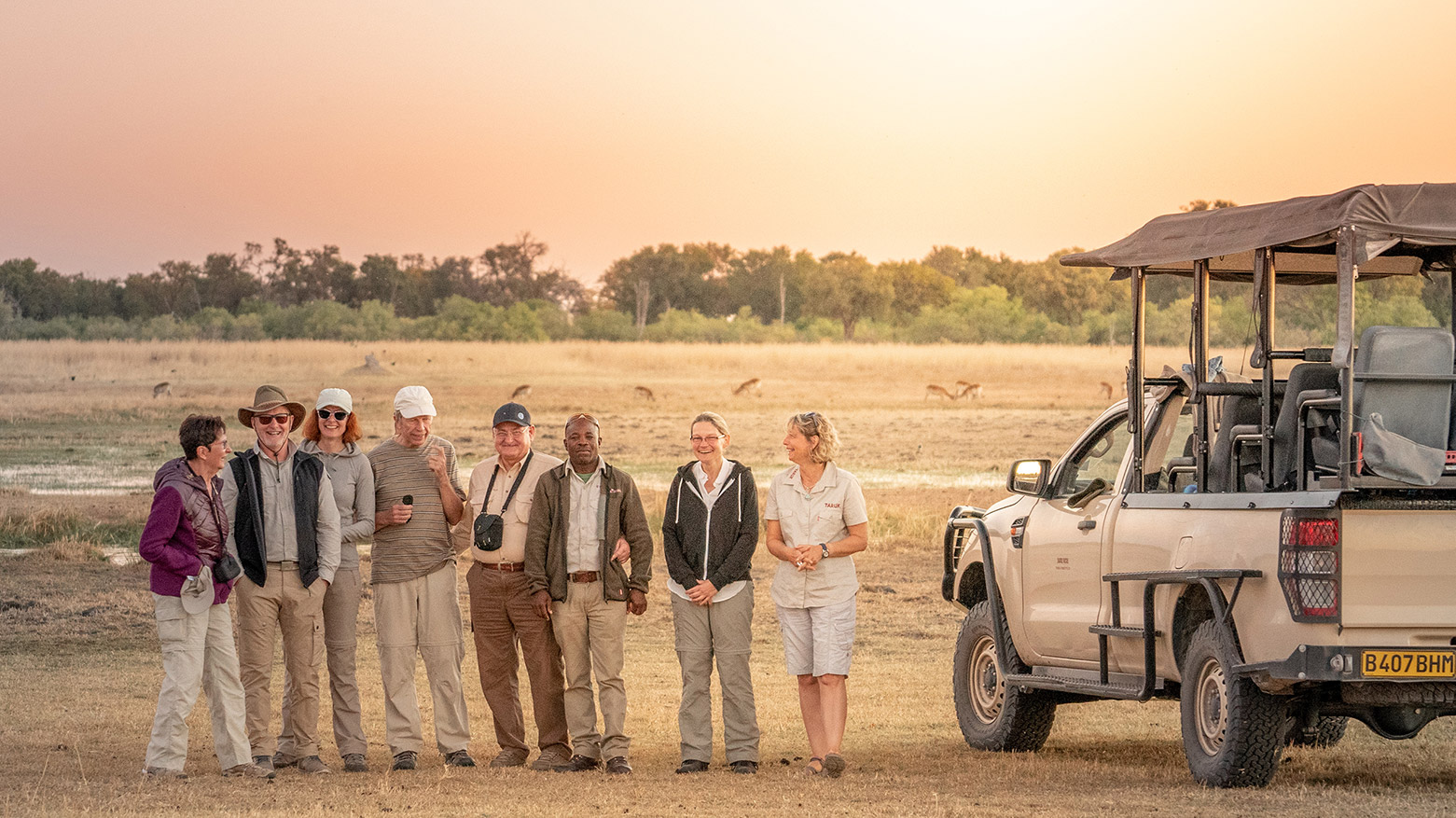 Activities and Bush Cuisine
The activities that you can undertake mainly depend on the Game Reserve you choose for us to set up your camp. A usual day on our exclusive mobile safari in Botswana starts with a light breakfast before heading out for an exciting morning game drive. Cats are most active when it's still cool so your chances of seeing Lions or Leopards on the hunt are best just after sunrise. Once you're back at camp a hearty brunch awaits you and throughout the siesta time the coffee and tea station is readily available. A lovely fresh cake and tasty snacks will be prepared for high tea, just in time before your afternoon game drive starts. Sometime during your fascinating search for the big and small animals of the wild, your guide will find a nice spot for a sundowner – maybe with elephants bathing in the fading evening light right in front of you? The day ends with a great 3 course dinner in the middle of big game country – prepared fresh just for you.
Look forward to:
4×4 Game-Drives – morning and afternoon or full-day
other activities such as Mokoro-Canoe trips or walking safaris depending on location
delicious freshly cooked meals
l

ight breakfast, hearty brunch, cake and snacks for high tea

three course dinner with buffet style main course and plated starters and desserts
well stocked bar with assorted wines, beers, spirits and soft drinks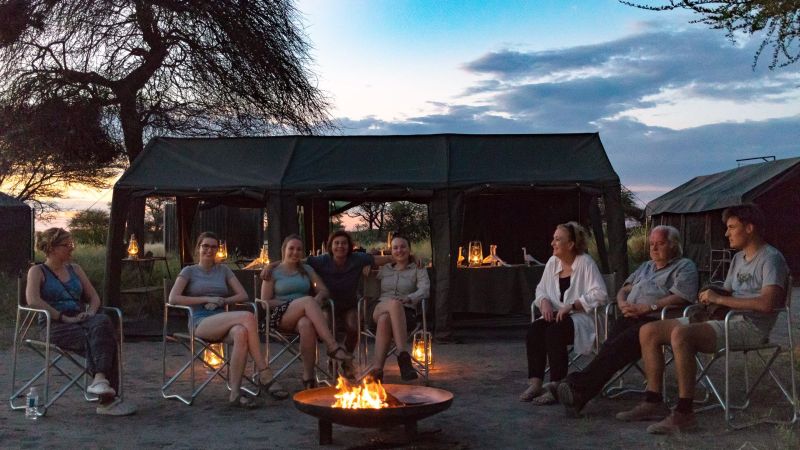 Rooms & Facilities
The road leading to the O Bona Explorer mobile safari camp might have been a little dusty. But then again: that's your own fault – you decided that you wanted your private safari camp pitched on this lovely spot in the middle of the Chobe National Park, or the Moremi Game Reserve, or let's say the Central Kalahari Game Reserve. After you've enjoyed a refreshing bucket shower in the en-suite bathroom of your grand 24m2 safari tent the dust on the road leading to your exclusive and comfortable mobile safari camp ist long forgotten. Now that you've refreshed and after you've enjoyed your first epic afternoon game drive, your day will end with a fantastic 3 course dinner seated in the camps large main tent area in the middle of the African Bush.. A glistening camp fire and an ice cold sundowner awaits you, before you get into your comfortable bed and fall asleep to the sounds of nature under the never ending African night sky.
Look forward to:
up to five 24m2 en-suite Grand Safari Tents with two safari chairs on the shaded veranda
each tent incl. two comfortable single beds, side tables, cupboard with clothes-hanger
en-suite bathroom with washhand basin, toilet, hot and cold bucket shower

large dining tent with coffee/tea station and cooled drinks

charging facilities for phones and cameras

all tents electrified with 24h solar-powered lights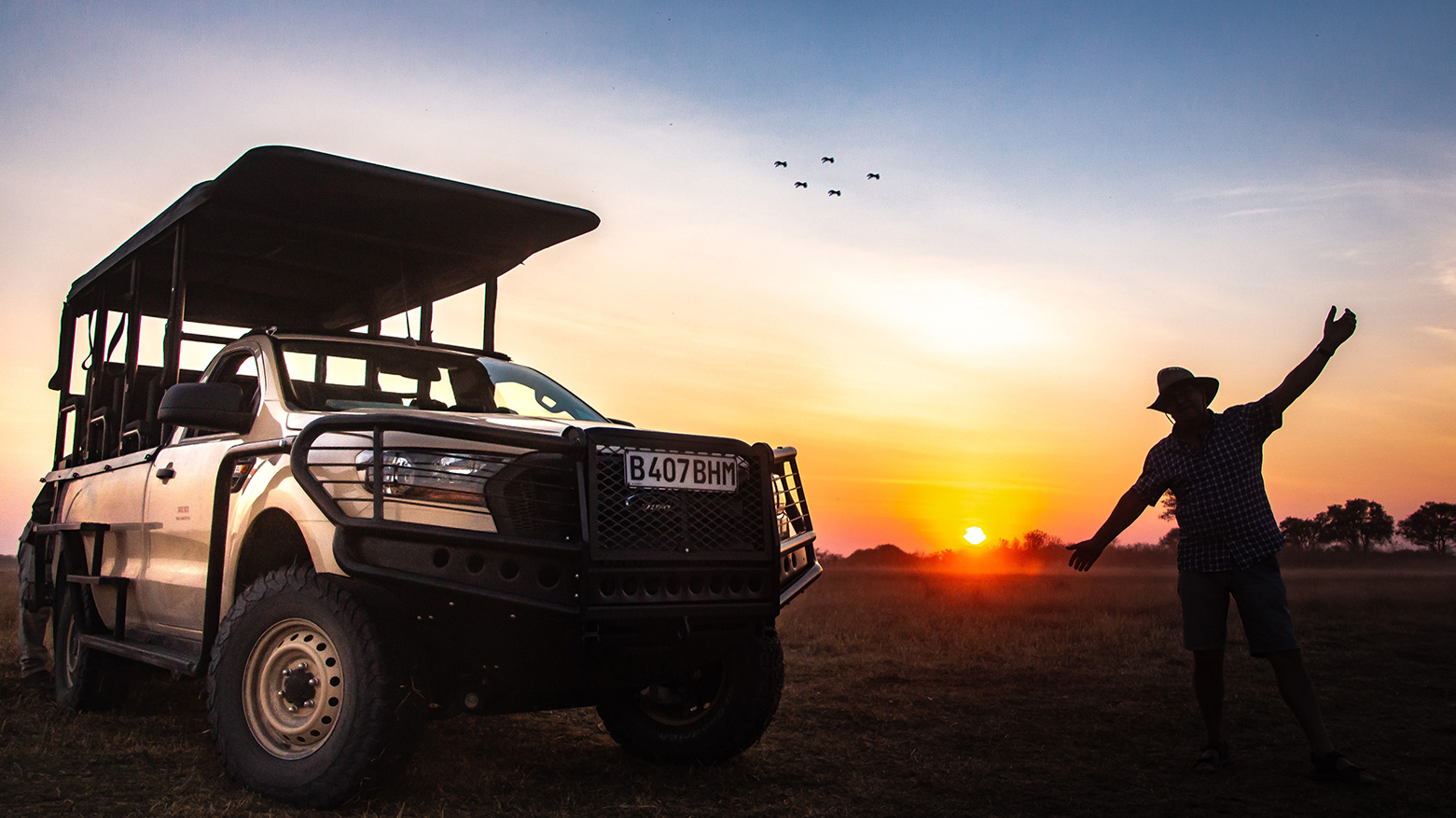 Locations
It was clear from the very beginning: if we build our own mobile safari camp in Botswana, it has to be capable of being pitched almost anywhere in this beautiful country. Therefor we designed our very own 4×4 Safari truck which not only carries the entire O Bona Explorer camp, but also houses a fully functional solar powered off-grid electricity network. Therefor we are not only able to provide every grand safari tent with 24h electrical lighting, but also to store fresh goods in our large fridges and cool down your drinks for iconic sundowners. Contact us directly and we'll tailor your perfect private mobile safari experience! No matter if you want your comfortable private camp to be pitched in the Moremi Game Reserve, the Chobe National Park or the Central Kalahari Game Reserve: we've been there and done it – we know the nicest spots from personal experience and can't wait to share the beauty that these fantastic parks have in store.
Look forward to:
camp designed completely off-grid with solar power and 1000+ liters of fresh water storage
choose your perfect spot in either:
Chobe National Park
Moremi Game Reserve
Central Kalahari Game Reserve
Or where ever you want us to provide you with the perfect mobile safari experience in Botswana
Looking after the 

Environment

The O Bona Explorer Mobile Safari Camp is run entirely by solar power, greywater ist recycled and we try to keep waste to a minimum on a mobile safari in Botswana.
Know where you're going
Learn more about the great national parks and the fantastic wildlife that await you on your private mobile safari in Botswana. We've put together lots of interesting facts for you in our online field guide!
Reservation and contact
+267 (0)73 894 155  |  res@obona-lodges.com